Rough Justice? How is the justice system serving autistic people?
Annual Conference – Thursday 13 December 2018
AT-Autism Annual Conference – 2018
We are delighted to confirm that Karen Todner a leading criminal defence, fraud, human rights and extradition lawyer, will deliver a keynote speech at our forthcoming conference: 'Rough Justice? How is the justice system serving autistic people?'. The conference is scheduled to take place on Thursday 13 December 2018 at Church House, Westminster, London, SW1P 3NZ.  Further details can be found on the conference webpage here and we'll announce the full programme in due course.
We have seen an exceptionally busy summer and autumn with training, clinical work, research and consultancy. We are also delighted to welcome Dr Judith Gould, Dr Jacqui Ashton- Smith, Dr Ian Davidson and Dr Ken Greaves who join our strong associate team. Judy brings a massive wealth of research and clinical expertise and international standing in the field. Jacqui has few equals in the field of autism education. Ian and Ken bring outstanding experience and clinical practice skills. Ian's role as Autism Champion within the Royal College of Psychiatrists, and Ken's expertise in education and interest in the BME communities will be invaluable.
We were also in attendance at the Welsh Autism Show this year in Cardiff and it was pleasing to meet so many autistic adults, families and professionals working so hard to improve services across Wales.
AT-Autism Annual Conference – 2018
Save the date!
Our forthcoming conference: Rough Justice? How is the justice system serving autistic people?, takes place on Thursday 13 December, 2018 with human rights lawyer Karen Todner delivering the keynote speech.
The fascinating conference will explore critical aspects of how the justice system currently serves those autistic people who might experience it – as suspects, offenders, witnesses and professionals.
October saw our third annual Synergy conference and get-together in Athens, chaired by a senior representative of the Greek Government's Ministry of Education Dr Vassilis Kourbetis. We welcomed delegates from across Europe to join our Greek friends at the wonderful and historic surroundings of the library at Piraeus, which is home to our Synergy partners the Laskaridis Foundation. There were presentations from Malta on the status of education provision on the island, from Denmark on the Aarhus family programme and Langagerskolen on mindfulness with autistic students. There was also a sharing of practice from the Channel Islands on how the Synergy programme was being used to support a young autistic adult. In addition our Greek mentor team and teachers shared their positive experiences of using the Synergy approach in the Greek schools and reported that no children had been excluded from participating schools since the programme was implemented. The event is now a firm fixture in our calendar with the fourth event pencilled in for November 2018. More details to come. We continue to steadily expand Synergy with workshops in Singapore, Denmark, Australia and UK and more planned for the coming year across Europe and further afield. We were delighted to be invited to contribute to the Learning Disability Today annual conference with a session on Synergy and to publish an article in the annual review.
Evaluation – Denmark & BILD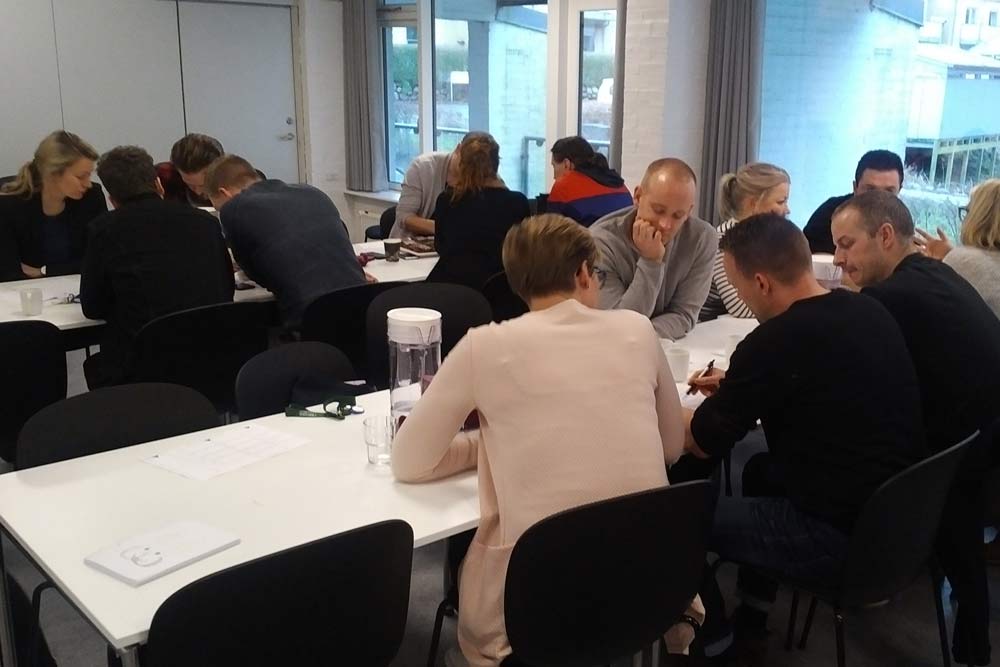 Our continuing partnership with our colleagues in Denmark has seen the completion of the first phase of evaluation of the Aarhus Family Programme in conjunction with the Centre for Special Paedagogiske, Aarhus Kommune. The evidence-supported method uses the four-stage process developed by Richard Mills, Gary Mesibov and Simon Lenton and produces a dynamic data set designed to produce ongoing evaluation. The Aarhus Family Programme is a six month intervention for families with a child identified as vulnerable by reason of their behavioural challenges. The outcomes to date have been positive and we have been able to implement the evaluation and the measures as well as collection and analysis of data. Kasper Kock Neilson and the team are to be congratulated for their hard work and effectiveness. This has been an important process and feedback confirms the value of this form of systematic evaluation in making programmes transparent and robust and providing feedback to families and staff on progress. In fact, the method has proven so popular with staff and effective in measuring progress it is now being extended to all programmes across the Aarhus Kommune. We were honoured and delighted to be invited by the Centre Head Ruth Lehm and her team to continue our work with the Kommune over the coming year and to participate in the Centre's annual conference in December with a discussion on behaviour and Synergy.
Also in Denmark we have worked closely with the consultant team at Langagerskolen helping to develop and share best practice models. We have been particularly closely involved with research on school absenteeism. It has also been possible to provide support and advice around individual students.
We are delighted to announce that we are working with the British Institute of Learning Disabilities (BILD) on a systematic evaluation of their Positive Behaviour Support Coaches programme starting in December.
Support for organisations
In the Channel Islands we continue to work closely with the Bailiwick of Guernsey in development of their specialist autism hub that will provide a focus for all autism related activity with adults on the island as well as a residential resource for people currently living off island in a range of residential placements. We are also assisting in the design of diagnostic pathways for children and adults with neurodevelopmental conditions. Our work is very much in the spirit of the 'Guernsey Autism Partnership' (GAP), between the Bailiwick, Autism Guernsey and the National Autistic Society.
Across the water in Jersey our work with Autism Jersey and the States of Jersey has been to provide guidance and support in developing their range of services and organisational structures to ensure they have capacity and stability going forward. There are continuing positive developments in the form of a new centre for autism related activity in partnership with the States of Jersey. This will provide the people of Jersey with a greatly enhanced level of support and expertise as the services in Jersey continue to grow and stabilise.
Our CPD accredited (AMPH) training for mental health professionals developed in London has now extended to South Wales and to Solihull in the west midlands.
In Australia we were delighted to be working with the Government of Queensland on training in autism for all staff working in services and to staff working in the Office of the Public Guardian. It was pleasing that great care was taken to ensure that the events were accessible to autistic delegates and families. In addition to training in evidence based practice we were able to deliver Synergy practice and mentor workshops. All events were well received with positive evaluations.
In Malta we continue to work with Paula Doumanov and our Maltese colleagues at the Inspire Foundation on Synergy and on the development of sexuality training, which we hope will proceed in 2018, subject to the necessary approvals.
In the New Year we start working with Solihull Council on training for their social work and social care staff on autism, mental health and on behaviours of concern. The December event was cancelled due to snow!
Clinical and medico-legal work
This has also been a busy period for individual assessments in particular supporting parents to obtain independent specialist diagnosis and education advice and in the diagnosis and support of adults. We have also been supporting legal colleagues on important specialised submissions concerning individuals involved with the criminal justice system. This will be the topic of our annual conference to be held this year on 13 December at Church House Conference Centre, Westminster, London. We are delighted to confirm the renowned solicitor Karen Todner has agreed to provide a keynote address.
The Help Foundation visit AT-Autism
Last year AT-Autism was contacted by the Help Foundation in China to learn more about our organisation's services and how professionals manage clinical and educational services for autism in the UK.
On the 3rd and 4th of October a number of representatives from the Help Foundation visited us in Birmingham and London. We took them to meet colleagues at: Uffculme School in Birmingham (see picture) where they toured the new secondary facility; Queensmill School in London where they learnt about various educational approaches; the Newcomen Centre at Guy's Hospital – one of the leading children's services for diagnosis in the UK.
AT-Autism is currently developing video and written training materials that will be available for autistic individuals, parents and professionals to work through to improve their understanding of autism. We discussed with the team from the Help Foundation about the possibility of working in partnership to develop materials for families and professionals in China. They are also interested in learning about ways to support families during the early stages of diagnosis, an area where AT- Autism Director, Linda Woodcock, has significant experience.
Our hope is that we will make a trip to Beijing during 2018 to discuss future partnership working. This will also be a good opportunity for us to meet autistic individuals and their families to learn about their priorities and needs.
Synergy Programme – Orkney and Shetland
The beautiful islands of Orkney and Shetland attract many visitors, both being known for their wildlife and Viking history as well as being important centres in both world wars. Recruitment to key roles can be difficult and some people in need of more complex medical attention or children with complex educational needs often end up having to go off island which not only impacts on the individual and their family but also means that specialist services are not necessarily developed on the islands.
AT-Autism's Dr Michael McCreadie has a long association with Orkney Islands Council, working closely with the Principal Educational Psychologist Cathy Lyner, consulting on children on the autism spectrum; five years ago he was joined on his regular visits by AT-Autism's Linda Woodcock, working mainly with local families. The recent development of the Synergy Programme with its emphasis on building local capacity sparked interest within the education department as a means to reduce school exclusions by creating a team of mentors to support staff working with children and young people on the Autism spectrum. The programme is now underway, with the local mentors chosen who will in turn be mentored by Michael and Linda.
Our association with Shetland is much more recent but discussions with their Principal Psychologist Rhonda Simpson are well under way and the Synergy Programme will commence in the very near future. Not only will this mean that key skills are developed here too but there is also opportunity for both islands to collaborate and share ideas.
Learning Disability Today
On the 22nd of November 2017, Learning Disability Today hosted its London conference at the Earls Court Conference Centre. This well attended event coincided with the publication of volume 2 of Autism and Intellectual Disability in Adults. This excellent journal includes a paper on Synergy by AT-Autism's Professor Richard Mills and Dr Michael McCreadie. To develop the thesis further, Dr McCreadie was asked to present a keynote at the conference on the programme and discuss both the theoretical basis of Synergy and it's practical applications.
The symposium was well attended by autistic participants, families, local authorities, NHS, and the voluntary sector. Following the presentation there was a significant amount of discussion that highlighted the value of the approach, combined with a desire to lobby for adoption of Synergy within services.
Autism Jersey continues to grow and develop with record numbers of autistic individuals being supported as reported at their recent AGM. Capital funding for accommodation has now been secured and work is underway identifying and auditing need on the island in order to ensure the charity can focus resources where they are most needed and expand their operational base. Synergy training is ongoing and will prove essential when off-island placements are transitioned back home as part of the island's long term strategic plan for autistic people.
Congratulations to Autism Jersey in being awarded accredited status following their review towards the end of 2017. Stephen Dedridge, Senior Advisor for Autism Accreditation, said: 'The awarding panel congratulate Autism Jersey upon maintaining the high standards required of Autism Accreditation. … It was evident from the peer review report that the service offers effective, person-centred support that can be considered transformative in the impact it has on autistic people and their families.'
The charity is now considering its structures with the view to separating service provision from charitable work in the New Year and will continue to thrive with support and guidance from AT-Autism.
Chris Atkins and Richard Mills attended the Welsh Autism Show update in Cardiff at the end of September 2017 and were able to chat with the many individual contributors and organisations present. The focus was very much on involvement and participation from the Welsh Local Government Association who presented an outline of the excellent work undertaken so far by the relatively new ASD info Wales Hub and the Welsh Integrated Autism Service.