Dr Michael McCreadie
We are deeply saddened to begin this newsletter by reporting the death of founding director of AT- Autism, Dr Michael McCreadie. He was 52 years old. Michael was much more than a dear friend and esteemed colleague he was, and is, an inspiration. His values and vision were responsible for the setting up of AT-Autism as Michael was passionate in his belief that only the best would do for autistic people and their families and those who worked to support them. His legacy is an ethos of giving, sharing and honesty and not being afraid to think and act 'outside the box'. He was immensely knowledgeable, creative and skilled. As a colleague, Michael was everything one could wish for. He was honest; he was kind; he had vision; he was hard working; he was funny and fun to be with. He was always a team player. In his practice and his respect for others he was a role model. When serious business was to be done he did it. Where difficult decisions were required these were taken with kindness and with the best interests of the other at the front of his mind. He was courageous in his decision making and stoic through his illness. Even when it had taken his physical energy and stamina he applied every ounce of his intellect and decency to the people he cared most about. He was unique. Our deepest and heartfelt sympathy goes to Michael's wife Layla, his son Ennis and his many close friends and colleagues from around the world who knew him and enjoyed and benefited from his humanity, intelligence, love and professionalism and wicked sense of humour. It was our promise to Michael that we would carry on his work, especially his beloved Synergy programme, that so closely resembles his ethos and values. It is a promise we will keep.
We are delighted to sponsor an annual award for an individual student at the University of Bath, Centre for Applied Autism Research, in recognition of outstanding work in this area. This will be dedicated to Michael's memory and will be known as the Dr Michael McCreadie AT-Autism Award.
Rough Justice. How is the justice system serving autistic people?
Preparations for our upcoming conference at Church House conference Centre, London are complete. We are looking forward to welcoming delegates from far and wide, including colleagues from Australia, New Zealand and across Europe. If you haven't booked yet there is still time and this a wonderful time of the year to be in London and at such a prestigious venue. Visit our conference page for more details. On a related note, our Advisor Richard Mills will be delivering a keynote on autism and the justice system in Stockholm in the Spring.
We are also delighted to support the Scottish Autism 50th anniversary conference to be held in Glasgow on the first week of November. This promises to be an outstanding event and details of the programme, which includes our Associates Damian Milton and Richard Mills is available on www.scottishautism.org
Scottish Autism
Our work on programme evaluation continues to expand and we are privileged to be working closely with our colleagues from Scottish Autism on the evaluation of two of their programmes; Get Set for Autism and Values into Practice (VIP). The method involves a Participatory Action Research Approach (PAR) that has worked well with the programmes in Aarhus, Denmark and which also support communication around the programme.
Donaldson's
Also, in Scotland we have begun work with Donaldson's on their innovative out of school programme that has seen such an increase in take up over this past year.
BILD
The evaluation of the BILD PBS coaches programme (not PBS) continues.
Support for organisations
Channel Islands

Guernsey
Our current agreement with the Bailiwick of Guernsey is nearing completion in the planning and commissioning of the autism service that will enable islanders currently placed off – island to return home. Our work on diagnostic pathways also continues. In early summer we organised a specialist seminar on diagnostic pathways featuring world autism authority Professor Christopher Gillberg from the University of Gothenburg, Sweden who accepted our invitation to speak on the ESSENCE concept in the context of assessment. He was joined by Kitty Stewart and Gillian Gamble from Health and Education respectively and our Consultant Associate Richard Mills. The event was well attended by representatives from across the Channel Islands.
Jersey
Our relationship with Autism Jersey is entering a new phase. The organisation has grown immensely in strength and capacity and is stable. A new management team is now in place and good progress has been made toward the achievement of a purpose-built autism centre for the island. Trustees and management feel confident to take a more active role in taking the organisation forward and we are delighted to have played a part in this period of stability and growth for the charity. Our support, through Chris Atkins going forward will focus on support for the new management structure and on more strategic aspects and we look forward to maintaining our supportive role in this excellent charity.
Malta
Inspire Foundation. In early May we were successful in a bid to present a course on sexuality and relationships for educators working with adults with an intellectual disability or who are on the autism spectrum. This is in the context of our Synergy programme approach. Working closely with our Autism Europe colleagues, Inspire Foundation Malta, the summer was spent researching this with them to ensure the course was right for the Maltese context. We are grateful to the CPD service for their constructive comments and accreditation of our course 'Safe: Healthy: Happy', which was delivered in August and positively received and evaluated. We look forward to continuing to work with Inspire on this and on other aspects of the Synergy programme.
Australia
Our CPD accredited workshops and one-day conferences on autism were delivered to a large number of professionals from across Queensland. Additionally, Synergy workshops on practice and mentoring were delivered and are now being extended to working with homeless people in New South Wales. A further workshop with the office of the Public Guardian in Queensland highlighted the plight of autistic people in the justice system and we are working with them and with Bond University on a project to better understand and respond to these issues, which tie in to the theme of our annual conference.
Denmark
In Denmark our evaluation of the Family Programme has now been extended to all social programmes in the Aarhus Kommune (local Authority) and we are working through these incrementally. The evaluation of the Family Programme continues to produce robust and encouraging results on the effectiveness of this intervention. Thanks to our colleagues at Aarhus we now have a model for participatory research based on the original design of Simon Lenton, Gary Mesibov and Richard Mills, which is providing a robust means of defining and evaluating social programmes.
Also, in Aarhus we are working with the excellent Langagerskolen specialist school on specific initiatives relating to mindfulness and children not in school.
We are delighted to be represented on the Meeting of Minds Scientific committee regarding the MOM7 conference to be held in Copenhagen on 29 and 30 November.
Singapore
Also, overseas, our relationship with the impressive Autism Resource Centre Singapore has been strengthened by our representation on the scientific committee for the Australia Pacific Autism Congress (APAC) to be held in Singapore in June 2019. It is good to see our recommendation of appointing autistic researchers to this committee is being so actively followed and enthusiastically promoted.
China
Following their visit to the UK, AT-Autism is continuing to work with colleagues at the Help Foundation in China about their training needs and hope to formalise a future partnership with them later this year.
Saudi Arabia
AT-Autism has agreed to partner with the Tatweer Holding Company in Saudi Arabia to develop training courses for local clinical staff. This partnership will start with a visit from Simon Wallace in October and we will report back on how things went in a future newsletter.
Our work elsewhere in the Kingdom continues in the school to be opened in Hammam and we have been in discussion regarding other programmes and training, specifically Synergy.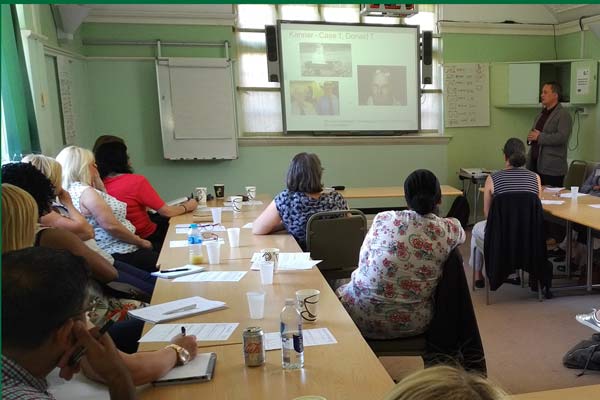 UK
Orkney
It has been an exciting period over the last 12 months working with Orkney Islands Council on several projects including Synergy and on the support of individual children.
Shetland
We have been supporting the Council to expand capacity in respect of autism and children with behaviours of concern. Here again the Synergy programme will commence shortly. (see under Synergy)
Solihull
Simon Wallace and Richard Mills have been helping Solihull Borough Council meet their statutory requirements around training under the Adult Autism Strategy (2010, 2014). This requires Local Authorities and Councils to deliver three levels of training to its staff, including general awareness, intermediate and advanced. We have been working with the Council on intermediate and advanced level training for their social and health care staff. The courses are CPD approved and delivered over the course of a day and the aim is to deliver evidence-based practical information in an engaging and participative format. Topics covered include: communication; sensory sensitivity; behaviours of concern; the social context; working with families. One aspect of the course that receives particularly positive feedback is the quiz for people to reflect on their own knowledge and to learn about accurate facts and figures. AT-Autism has also designed a two-day "train the trainer" course to enable local authority staff to deliver intermediate level training.
London
Mental Health training is also available in CPD format, including for Approved Mental Health Professionals (AMHP) and we continue to work with LB of Hackney and LB of Redbridge.
AT-Autism Joins Autism Europe
We are happy to announce that AT-Autism is now an associate member of Autism Europe after Linda Woodcock attended the recent Annual General Assembly in Rotterdam. Linda gave a presentation to over 70 current members outlining the work of AT-Autism and answered questions from delegates. Autism Europe works very hard to make sure that Autistic people and their families have a high profile within the European institutions; they have over 80 member organisations in 38 countries.
Linda says: "I met some lovely people from many different countries, many of them family members, it seems that the issues affecting autistic people and their families know no national boundaries. Access to appropriate education, employment opportunities and family support were high on everyone's agenda"
We will be working hard to support Autism Europe and promote the autistic voice.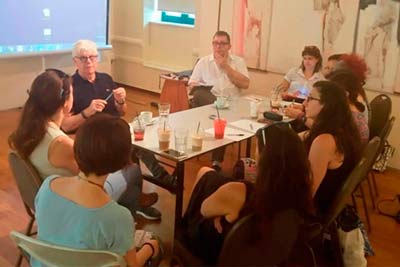 Synergy continues to grow. We have refined the mentor workshop and we are working with our colleagues at the Laskaridis Foundation in Greece to update and streamline this. We return to Greece in the autumn to finalise this work. Our relationship with the Foundation has been further extended to pursue this important project in reducing exclusion and building local capacity. We are currently looking at new ways of meeting the demand.
Our Greek colleagues report the exciting and encouraging finding that no child from a Synergy Programme school in Attica has been excluded in the past four years.
In Orkney the Synergy mentoring programme is now well under way and the mentors are preparing to go into schools showing how the programme fits in with both the Scottish national agenda and Orkney's local strategic plan. The Scottish Government (June 2018) have focussed on local authorities developing a positive whole-school ethos and culture, emphasising the importance of positive relationships, Learning and Behaviour and Education Scotland cite the importance of applying Nurture as a Whole-School Approach. Orkney Island Council's strategy has included Synergy as a recommendation in their Support for Learning review as it is a perfect fit for their focus on building positive relationships within schools.
In Shetland we are very pleased to say that Synergy is now firmly on the Agenda for Shetland Islands Council to start in November with a presentation by Linda Woodcock and Richard Mills to senior managers and local council members explaining the programme and how it sits within the national and local agenda. The programme itself will start in January and will follow the model already underway in Orkney and elsewhere.
Our colleagues Michael McCreadie and Richard Mills were invited speakers at the Autism Education Trust annual seminar in London in March to discuss the programme.
Clinical and medico-legal
This continues to be a busy area of work. With the death of Michael McCreadie and stepping down from clinical practice of Associate Consultants Dr Helen Pearce and Dr Juli Crocombe we are looking to recruit expert clinicians to our team of Associates to carry out occasional independent clinical assessments or legal work. If you share our ethos and feel you have the high level of expertise and experience of autism – or know of someone who does please contact us info@atautism.org
We are pleased to announce the opening of AT-Autism Ireland located in Co. Cork. More details soon of events that will be organised for our Irish colleagues. Our colleague in Ireland Mr Hugh O'Reilly has been appointed Hon. Sec for the Irish Office. Hugh is a teacher based in Co. Cork and will be taking up post in October.
STOP PRESS!
New Board Member
We are delighted to welcome Ann Memmott to the AT-Autism board. Ann brings a wealth of experience from both a personal and professional perspective. Read more about Ann here >>
There will be more on Ann in a future newsletter.